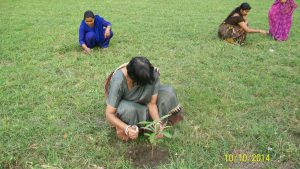 Swach Bharat Abhiyan
On 10th Oct 2014 All faculty & student PCN & RC under the guidance of Prof. (Mrs.) Karesh Prasad, Principal, cleaned the college premises as a part of Swach Bharat Abhiyan.
Every one actively participated and principal madam emphasized the ways to promote environmental sanitation.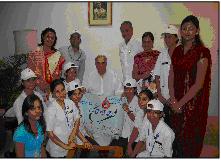 12/06/09, The students & teaching faculty of our college participated in Blood Donation Camp organized by the Indian Red Cross Society, on the occasion of voluntary Blood Donation Day. Many student nurses & faculty voluntarily donated blood for this great cause on this occasion. The Student nurses prepared innovative & colorful posters, for public awareness regarding the importance of blood donation.
The posters were inaugurated by Honorable Excellency Dr. Balram  Jakhad, the Governor of M.P. He appreciated the work done by student nurses Celebration
of International Women's Day on 8th March 2010 by organizing quiz competition.
Presented Nukkad Natak for spreading awareness regarding Tuberculosis at Harrakheda Villageon 23 March 2010 on the occasion of World Tuberculosis Day
Visit to Red Ribbon Express for orientation for HIV/AIDS on 07th August 2010.
Shramdan at upper lake with motto of preservation of water on 21st March 2009.