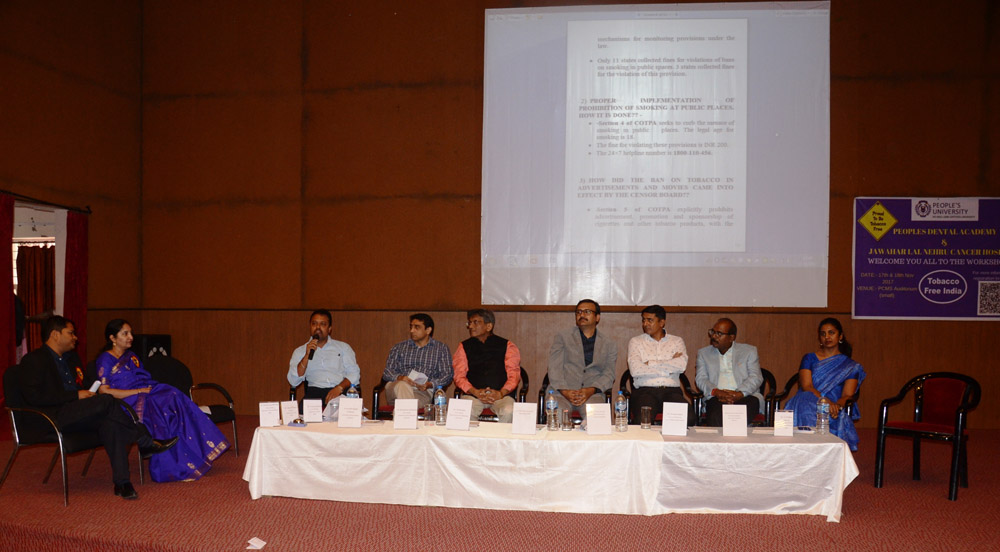 People's Dental Academy an affiliated unit of People's University organised a workshop on Tobacco Free India.
Dr. N. Ganesh was the Guest Speaker and spoke about Tobacco related epidemiology with
Global and National perspective. Dr. Shubhangi Mhaske, Dr. Preeti Nair, Dr. Punit Gupta also participated in the discussion and expressed their views through their lectures on various topic related to Tobacco and Health, Environment, Smoking etc.
Several issues such as the provision of smoking in public places, proper implementation and legal age of smoking, ban on tobacco advertisements and film by censor board, laws governing promotion of cigarette and other tobacco products, tobacco-free zones, laws regarding selling tobacco products within the 100 yard radius of the educational institution etc were discussed in detail during the workshop.
This workshop facilitated in generating awareness about the effective implementation of tobacco control laws in the country.
A website EK-Pahel-Tobacco Free India was also launched on this occasion.