People's College of Nursing and Research Centre, Bhopal M.P
Medical Surgical Nursing Department
Medical Surgical Nursing Department was found in People's College of Nursing and Research Centre, with the following objectives:
To foster students in providing comprehensive scientific based nursing care.
To help implement concepts and theories of nursing into practices.
To encourage students to manage and recognize Medical Surgical and Emergency conditions.
To nurture students to appreciate the trends and issues in the field of Medical Surgical Nursing as a Speciality
Medical Surgical Nursing Department consist of three faculties. Prof.   Alka Rai, HOD, Mrs. Babita Agrawal, Associate Professor and Mr.  Shailendra Singh Tutor, are working towards the betterment and achievement of the objectives of the department.
Various activities and days are been celebrated by the department throughout the year. Department continuously guide and motivate students to participate in departmental activities and also provide them platform not only for academic development but professional and personal as well.
Celebration of World Heart Day on 29/09/2020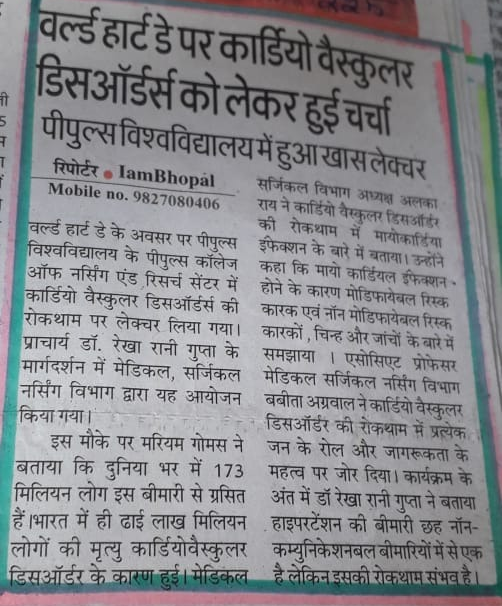 Celebration of World Cancer Day on 04/02/2021