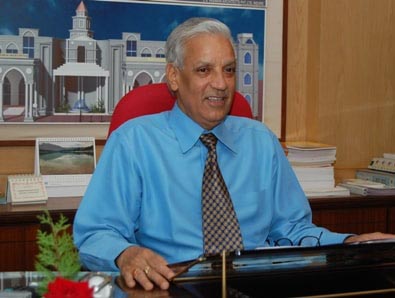 Mr. Suresh N Vijaywargia – Chancellor,
Mr. Suresh Vijaywargia was born in Bhopal on 12th May 1944 in a business family. He did his schooling in Bhopal and later joined the State Engineering College at Vidisha. He played an active role in all the activities in college and was the joint secretary of the student union. He got his Engineering Degree (Electrical) in 1968.
A natural aptitude for entrepreneurship coupled with leadership quality helped him in setting up of successful business in India as well as abroad. Despite a promising rise in the US in the 70's, he returned back to his motherland in the early 80's and continued with his successful stints in the field of Film Financing, Construction, and Retailing. He started a chain of super bazaars in Bhopal, the first of their kinds. To help the poor and gas affected people of old Bhopal, he started a 100 bedded hospital namely People's General Hospital in the old locality. A larger vision coupled with intelligence and creativity helped him in realizing his biggest challenge and dream of setting up an educational hub in the city of Bhopal. This resulted in the formation of the People's Group promoted by Sarvajanik Jankalyan Parmarthik Nyas, A Charitable & Non-profitable Public Trust established by Mr. Suresh Vijaywargia. The People's Campus located at Bhopal (Madhya Pradesh), India, is one of the largest for Medical, Dental, Management, Engineering, Media, Law, Nursing, Paramedical, Physiotherapy and School Educations, Hospitals and Healthcare in the central India. Mr. Vijaywargia has embarked onto a mission for creating and harnessing talent pool for various disciplines. The journey of People's Group began with the prime objective of "Nurturing Humanity through Health and Educational Excellence".
Mr. Vijaywargia has been awarded several national awards. The prominent ones are the Millennium 2000 "Samman" in April 2000 at Bhopal. Rashtriya Ratan Award in August 2002 at New Delhi for his achievements in the field of business and educational services and the International Gold Star Millennium Award given by the Global Economic Council at Bangkok. His interviews have appeared in almost all the top class magazine in India and abroad.
Mr. Suresh Vijaywargia continues to play an important role in bringing global education to a common man's doorstep by offering cheaper and better education and services. A technocrat by profession, with vast overseas experience, it is his vision and obsession to attain world-class standards, which is taking the Group to the pinnacle of glory. His vision and values have helped in setting up and achieving the objective of the People's Group, based solidly on the foundation of core values. Like a true leader he has set the direction, and motivated his team to achieve the goals. He actively creates opportunities for collaboration and dialogue within the group and positively influences and inspires others to understand and accept leadership roles so that everyone achieves his or her best. People's group did not happen by chance but by plan and Mr. Vijaywargia plans it to be the top- most educational group of India.