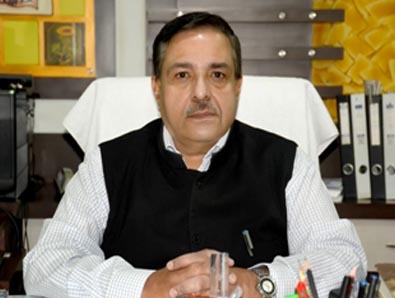 Dr. Rajesh Kapur – Vice Chancellor,
Dr. Rajesh Kapur ,Vice Chancellor, People's University, Bhopal (M.P.), was Senior Adviser and Scientist "H", Department of Biotechnology (DBT), Ministry of Science & Technology, Government of India, New Delhi and has been steering R&D in the medical and health care area for the past over two decades in the country. He was associated with the Indian Council of Medical Research, New Delhi as Senior Consultant in their mission mode programme on India Tuberculosis Research Consortium.
He was Managing Director, of Bharat Immunologicals and Biologicals Corporation Limited (BIBCOL) a Public Sector Undertaking of the Government of India set up for manufacturing oral polio vaccines and other immunisers.
He was also the "Trustee" of The Wellcome Trust/DBT "India Alliance" which is an £160 million initiative funded equally by the Wellcome Trust, UK and DBT to build excellence in the Indian biomedical scientific community by supporting future leaders in the field.
He specializes in core and cross-sectoral policy issues of academic development, biotech regulation, safety, public private partnership, international bilateral cooperation and relations, and public concerns and consensus building. Dr. Kapur is widely travelled and was member of various Inter-Governmental committees and has been an active participant in FAO-WHO Codex Alimentarius meetings in India and abroad. He has been member of the Governing Council and Scientific Advisory Committees/Research Councils of DBT and CSIR Institutions.